If you are looking for Hotels in Karlsruhe, please also see the offers of our latest sponsor: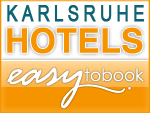 We have negotiated special conference rates for ISWC 2008 attendees. The offers are valid until 4 weeks prior to the conference, so you should reserve fast. The booking form can be found here.
You will have to fill it out (can be done within PDF), print it, sign it and fax it back to the number indicated on the form.
To see the hotel's locations with respect to the conference location, please use the google maps embedded below.